For Sale Page
Here is your chance to pick up a used race vehicle or parts! Is there something in particular that you are looking for? Post it in the wanted section! Email Wes Kibble to have your add placed here!

FOR SALE




Mirage frame similar to either jamie or jeffs frames in the oora. -mild steel-custom rear tortion with adjusters-rear beefed up stock trailing arms [with tube] -i think their sway away bars either 25's or 26's if i remember right-floor pans in - has nerf bars- shifter is seized up a bit but its there-has a turning brake thats seized also. located near peterborough email at vwstuca@yahoo.ca or pm: me or phone me at 705-277-3785


An older csc racing frame with mostly everthing to get onto the track on a budget. comes with 2 front centerlines, bus transmission, stock single port motor + a bunch of odds & ends like blocks , lightened fly wheel, performance cam/ valve springs , ect., 2 fox shocks, 2 bilsteins ect.
Located near peterborough email at vwstuca@yahoo.ca or phone me at 705-277-3785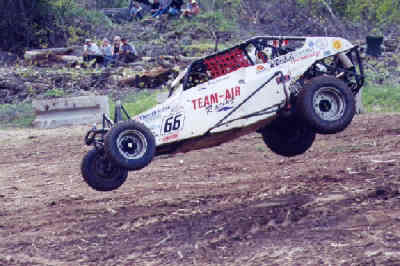 Class 1600 Two Seat Buggy
Ray Jennings, 4 time Driver of the Year and 1st Overall for the last 7 years, is letting his Class 2-1600 buggy go. It has a Scott Taylor frame and the best of everything, along with lots of spare parts. $ 8000 turn key or will part out. Contact Ray Jennings at 905-692-1850 for more info.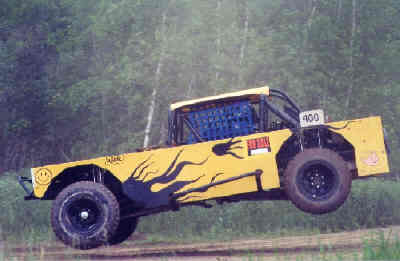 Class 4 Single Seat Truck
Ed Sanderson, the 2002 Class 4 Champion and 2nd place finisher in 2003, is selling the infamous yellow Hummer lookalike. This truck is almost indestructible. It is hard to roll it and break it. Good starter truck for a new person just getting into PRO racing. This is the highest level of racing in Ontario for Offroad racing. Chev 350. Turbo 400 trans. Ford transfer case Gear to Gear. Yes FORD. 2 rads, 3 transmission coolers. This Truck is TURN KEY. I will sell just chassis or complete. Comes with 5 spare tires, and boxes of parts. $ 5000 cnd OBO. Contact Ed at 613-399-2915 or Email .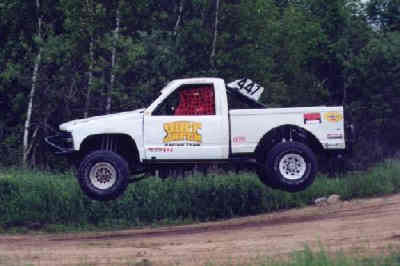 Class 4 Chevy & Trailer
Ric Tichbourne is selling his Class 4 truck to build his son a Class 7. It includes 4-5 different Bodies, 8 Tires, Assortments of gears, 30-40 Shocks, National springs, Fox shocks, Good cloth racing seats, Two harness's, Less motor $ 6000 OBO Trailer for sale that is made for this truck. $ 3000 Call and make an offer. 519 457-2973

PARTS
2 /8" fox shocks older but in good shape
-2 /10" fox shocks
-2/12" fox shocks both pairs are older and have rust on the bodies [not shafts] but seem to work & no leaks /pair
-2 goodyear rear grooved tires[ 1 race]
-2 front goodyears, grooved [ 1 season]
-ump air box with built in velocity stack and k&n filter
-thing drums complete with backing plates and guts
-steel wide 5 bolt wheels sort of look like wagon wheels /each
-type 1 stub axles with type 2 flanges
located in peterborough , ont. area.
email at vwstuca@yahoo.ca or phone at 705 277-3785
ask for stu

Fox Shocks Ken Sherrett is selling some of his shocks as he changes the rear suspension design on his buggy. As he writes "I have 3 and maybe 4 "14 Fox Air shocks for sale . The fourth one got pooched at the last race and I am trying to get it fixed . They are about the only part on my car last year that didn't give me problems . It is $ 150 firm for each shock . Hopefully I can get the last one fixed . " Contact Ken at 519-644-1780